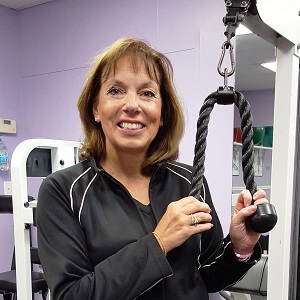 I was 25 and couldn't get out of bed without help because my hip joints were so inflamed. I wanted to move less to avoid the pain, but my rheumatologist encouraged me to move more–something more strenuous than just pushing my baby in her carriage. I forced myself to take group exercise classes, and to my surprise, it was the perfect RX for reducing my pain and increasing my mobility.
Exercise changed my life and I couldn't wait to share that discovery with other women. I started teaching classes in 1984 and became certified as a personal trainer a few years later.
Now in my late 50s, I've learned to manage the frequency and duration of flare-ups with exercise.  I really enjoy working with older women because they face some of the same physical issues that I have overcome through exercise and nutrition.
Certifications
Personal Trainer, AFAA
Certified Group Exercise Instructor, AFAA
Continuing Education in Nutrition Counseling, Senior Exercise Programs, Weight Training Programming
Specialties
Women
Seniors
More about me
I also teach Workout Classes for women at The Vanderbilt Club
What my clients say
"After back surgery for stenosis and sciatica, I have been using Michele as my personal trainer since 2007. Normally I see her twice a week with a partner. She has helped me stay strong. She is a dedicated professional who keeps me [walking] upright."
Faith L., Plainville MA
"Michele has been my personal trainer for the past seven years. The most important goal of my training has been to strengthen my core, muscles that had been very weak due to inactivity. We also work on balance, so important now that I'm in my mid-sixties. Without Michele's help, I have no idea where I would be today.  Michele is very dedicated and works us hard twice a week."
Carol S., Norfolk, MA
Availability
Monday, Wednesday and Thursday mornings