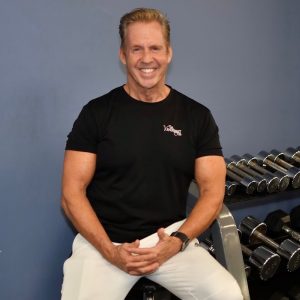 Background
Once a teacher, always a teacher. In his early 20's, Jim taught at the high school level for several years. He enjoyed the experience of educating, instructing, motivating, and developing connections with his students. The family business pulled Jim away from the classroom and into the corporate world where he remained for 30 years. By this time, Jim was fully committed to weightlifting, training daily for decades. While lifting at the gym during his lunch hour, Jim suffered a serious injury and underwent surgery followed by intense physical therapy. His recovery was painful and lengthy. Jim was so intent on preventing others from suffering a similar fate, he became a certified personal trainer. His teaching skills would serve him well in his new role. "I get great satisfaction when I train clients who puts forth a lot of effort and remain committed to the workout program we developed. Hearing how much better clients feel after weeks of following a personalized program is music to my ears."
Philosophy
The aging process does not wait. Exercise is important for everyone. It helps maintain strong bones, build muscle strength, and improve one's daily living. Exercise can also ease the pain of arthritis. We know muscle strength declines 10-15% per decade up to 60 years and accelerates to 25-40% per decade up to 70 years, so it is important to incorporate strength training into your fitness routine. Jim knows it is never too late to start, and he welcomes the opportunity to help you create an individualized strength
program.
About Me
Jim has returned to the classroom as a long-term substitute teacher at his alma mater, Walpole High School. He's married and the father of two active teenage sons and lives in Walpole. His boys' schedules keep Jim traveling from one sporting event to the next and he does his best to squeeze in a workout whenever he has free time. Aside from family and fitness, Jim's other passion is playing the piano. He started lessons at age seven and continues to play.
Availability
Please check with the Front Desk staff to schedule time with Jim.
Fitnes Credentials
Certified Personal Trainer, NASM (National Academy of Sports Medicine)
Certified in Youth Exercise
Certified Senior Fitness Specialist