OUR GROUP EXERCISE PROGRAMMove, sweat, laugh. Make the most of your time at the gym. With three studios and a pool, we offer over 70 group exercise classes to fit your schedule.
WHY GROUP EXERCISE?Group classes appeal to people who like some structure—the instructors design the workout, choose the music and coach participants on pace, intensity and proper form. If you like the camaraderie of a group, this is for you.
CLASSES TO SUIT YOUR FITNESS LEVEL, YOUR CONDITIONING GOAL OR YOUR MOODOur group exercise program offers a ton of variety—traditional favorites, like Aerobics and Muscle Conditioning, the latest trends, like Barre, Pound, Insanity and HIIT, plus Spin, Pilates, Yoga and Aqua workouts. Whether you're just starting out, need to burn off some energy, or want a relaxing half-hour of stretching, there's a class for you.
OUR INSTRUCTORS

Our instructors are some of the area's finest. Most are veterans in the field of group exercise. They are all certified by nationally-recognized organizations, so they know their stuff. And they're continuously training to stay on top of the latest developments in group fitness.
Kathleen Marvelli
Group Exercise Director
OUR CLASSES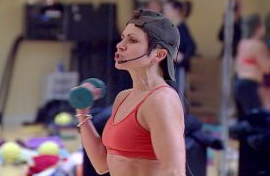 AEROBICS
A mix of HI/LO moves on the floor or step performed to pumpin' music that will challenge your cardiovascular system. Get ready to work up a sweat! All levels welcome.
AQUA AEROBICSInvigorating workout that enhances cardiovascular fitness, strength, balance and flexibility using noodles and dumbbells. Environment is social and fun. No swimming experience required. All levels
AQUA ZUMBAAqua workout to a Latin beat. No swimming experience required. All levels.
BARRELift, tone, burn! A full-body workout targeting the areas women struggle with the most: hips, thighs, butt, abs and arms. There's no bouncing or jumping that would jar your joints. Each strength segment is followed by stretching to create long, lean muscles. Space is limited, sign up at front desk!
CARDIO BOXCombines martial arts and boxing drills to maximize your caloric output while challenging your over-all fitness level.
CARDIO MIXCardio and strength wrapped up in one class. This workout creates lean muscle mass with weights and gets your heart pumping to improve cardiovascular capacity. All levels.
CARDIO/MUSCLE/CORE
Twenty minutes each of Step, Aerobics and Weights/Abs.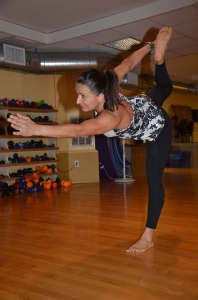 GENTLE YOGA/YOGALITE
The same Asanas as in YOGA (above), but at slower pace. With regular practice you will increase strength, flexibility and concentration and reduce stress. Great for beginners, and effective for all levels.
HIIT (High Intensity Interval Training)Quick, but intense bursts of physical activity paired with intervals of short rests. Some research claims that this type of exercise nudges your metabolism up, causing your body to burn calories at a higher rate, even up to 48 to 72 hours after class!
INFERNO PILATES
Hot Pilates is a fun, challenging, full body, low impact, high intensity workout using Pilates principles. It's performed in a heated room to energetic music.
HOT POWER YOGAStretch, strengthen and detoxify as you perform yoga postures in temperatures up to 90 degrees. A challenging class that will leave you feeling energized.
INSANITY®The cardio and plyometric drills will get your heart pumping and burn a ton of calories. The intervals of power, resistance and core moves are designed to build muscle strength and endurance. A tough workout when you go all out, but moves can be modified.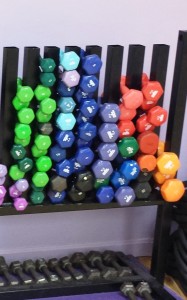 INTERVAL
No watching the clock during this class. Time flies with a continuous cycle of cardio segments followed by muscle drills. A comprehensive, all-around workout for all levels.
MUSCLEA weight training class designed to sculpt and tone using a variety of resistance and stability equipment, including weights, balls and tubing. All levels.
PILATES MATFamous for developing strength, flexibility, stability and coordination, not to mention flat abs. Pilates is practiced by everyone from elite athletes to beginner exercisers. This class has superior instruction, cueing and form correction. Additional props and tools are can be used to add variety and challenge. All levels.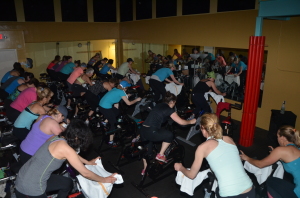 SPIN
Not your grandmother's stationary bike! This fat-burning, lower body-strengthening workout will have you pedaling up hills, around bends over the flats to music and guided imagery. Bring your towel and water bottle. All levels can participate by adjusting the resistance on the bike's flywheel.
STEPA cardio workout done by stepping on and off a platform in a variety of patterns and tempos, all cued by the instructor. Step height can be adjusted to suit all levels of agility and cardiovascular fitness. If you love moving to music, you'll love this class.
STRETCHThirty minutes of guided stretching to increase flexibility and range of motion in your joints. Great for beginners, but all levels benefit.
CORETake off your shoes and try this signature class created by Kathleen Marvelli that will strengthen and sculpt your entire core. Her unique combination of yoga, Pilates and barre moves keep this workout ever-challenging and loads of fun!

WATER WORKOUT
A circuit workout in deep and shallow water to build cardiovascular capacity and muscle strength. Resistance equipment is used to enhance workout. All levels
WORKOUTA lighter version of MUSCLE (above), although all levels of fitness can be challenged, depending on what size weights you choose.
YOGAIntegrate your body, mind and spirit practicing a variety of physical postures (Asanas) that slowly flow from one to the next with synchronized breathing. The moves incorporate power, strength and flexibility. All fitness levels welcome
YOGALITEThe same Asanas as in YOGA (above), but at slower, gentler pace. With regular practice you will increase strength, flexibility and concentration. Helps reduce stress. Great for beginners. Effective for all levels.
ZUMBAA Latin-inspired fitness class that blends red-hot music with contagious dance moves to create a party atmosphere. Fun and addicting!