Pool of Possibilities!
The Vanderbilt Club pool is a year-round hub of water activity. We offer swim lessons for all ages, daily water classes, small group aqua fitness training, lap swimming and family swim time. Our staff of engaging certified instructors lead all aquatic classes and programs with Red Cross-certified life guards on duty.
The expansive, enclosed pool and deck area offer the best of both worlds. The pool dome is removed around Memorial Day, weather permitting, and members enjoy a refreshing, outdoor experience of daily water activities. Our 75' by 20' pool offers three lanes, 25 yards, for lap swim as well as plenty of leisure poolside time. Soak up the sun, read a book, and unwind in the spa.
The pool water temperature, set at 84 degrees, and spa set at 104 degrees makes for an ideal, inviting environment, especially when the cooler months approach. The dome goes up after Labor Day and the pool fun continues without the sun.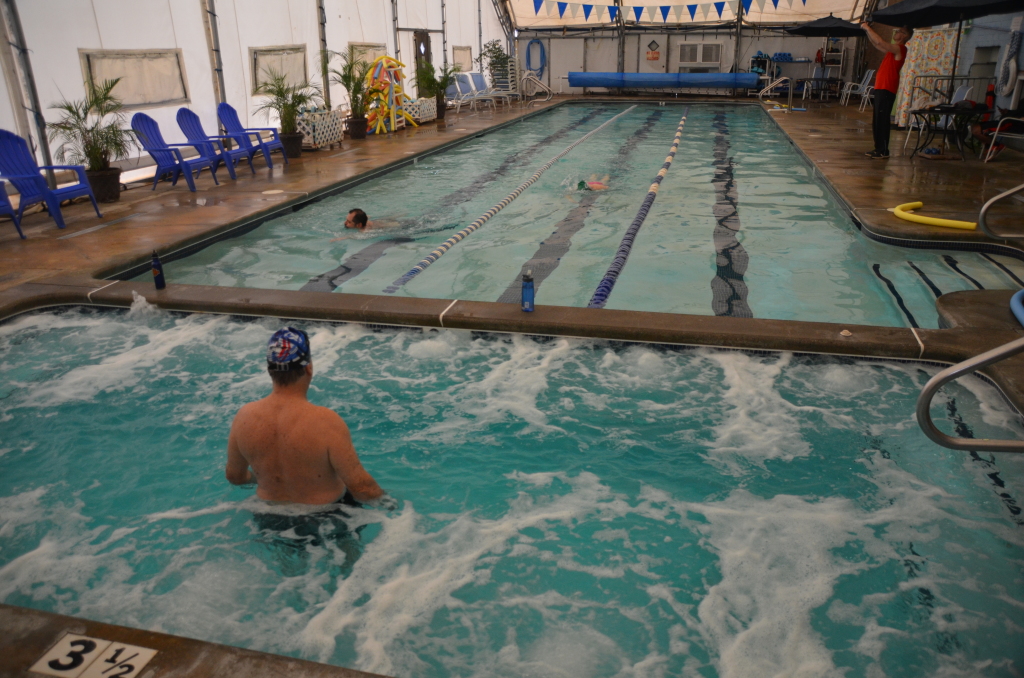 Aquatics Group Exercise Classes
Aqua classes incorporate the exercises you would expect in a class done on land, but with bonuses you can only get from working out in water. Water reduces gravity's effect on the body and its buoyancy cushions stiff joints and fragile bones, making it a great choice for people rehabbing from injury or surgery and for older adults. Water pressure helps circulate your blood, putting less strain on your heart. Working out in water prevents overheating, so you'll have more cardio endurance in class.

Aqua Personal Training A great way to get started with exercise, for rehabilitation following surgery or injury or as a treatment for chronic health conditions. It's also great cross-training for athletes. Individual or partner sessions available. Personal training rates apply.

Aquatics Staff