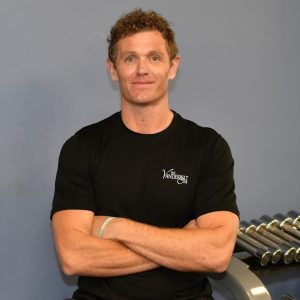 As a lifelong athlete Bryant understands the demands of the human body and how important
pain free movement is to performance and leading a healthy lifestyle on a day-to-day basis.
Bryant's goal is to help clients look and feel better through corrective exercises and training to
uplevel movement patterns. Upon completion of the first training session, Bryant provides
clients with a voice-over, video assessment. The video allows the client to view and evaluate
his/her body in motion and uncover patterns that may cause injury or dysfunction. Based on
the review process, Bryant designs an exercise regimen to create more natural movement
habits. Bryant trains clients looking to increase athletic performance, avoid injury while
exercising, lose weight, gain muscle, and recover from past injury to become pain free. He
enjoys working with men and women of all ages and levels from athletes to weekend-warriors.
CERTIFICATIONS
ACE certified personal trainer
GOATA certified movement coach
Slow motion video assessment
SPECIALITIES
Maximize human performance by perfecting energy transfer efficiency
Sports performance
Weight loss
Injury prevention
Movement training
ABOUT ME
Bryant was a two-sport captain at Norwood High School, excelling in football and basketball.
He attended Hofstra University on a full scholarship to play football. Bryant leads an active
lifestyle. Whether he is working out at the Vanderbilt Club or walking his dogs, he is committed
to moving his body every single day. Bryant is mindful about what he eats and follows a
nutritious diet. He also meditates daily to achieve inner peace and balance. Bryant loves
everything-football and is a loyal Patriot's fan.
TESTIMONIAL
"My body feels moves and looks the best it has in years because of Bryant. I had to make a choice a year ago, keep going down the path of destruction and back pain, or invest in myself and trust the process. I chose the latter–so glad I did."