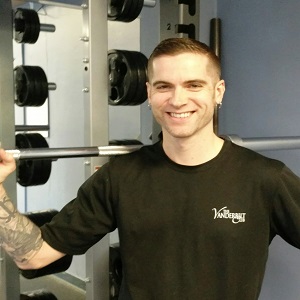 Mission Statement
To help others awaken their spirit and live life to the fullest, by guiding them through body and mind conditioning utilizing safe and effective exercise training, sound and sensible nutrition advice, empathy and compassion, and modeling the importance of balance every day.
Fitness is completely fair. What you put into it is what you will get in return, and it is the consistency that is the key to making it work. My favorite methods of training include traditional barbell and dumbbell exercises for developing raw strength, cable exercises for unilateral training and quick transitioning, and cardiorespiratory training performed inside and outside amongst nature. I enjoy practicing yoga to tie it all together, mind and body.
Education/Certifications
B.S. in Exercise Physiology, U. Mass., Boston
Certified Spartan Group X Coach
Specialties
Cardiac Rehabilitation
Senior Fitness
A bit more about me
I am part of the Spartan [Obstacle] Race community, trained in the 7 pillars – stamina, power, athleticism, readiness, tenacity, attitude and nutrition. Spartan Race "builds better humans" by tapping into both the physical and mental. In races, we push beyond our comfort zone; we set a new reference point. This awakening carries into our personal lives as we start to believe that we can always do more.
Visit my health and fitness website at www.roundtripfitness.wordpress.com.