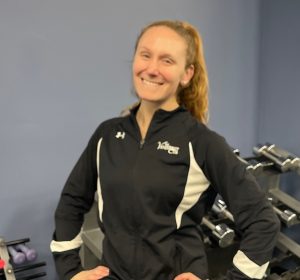 Background
Fitness has always been the cornerstone of Christen's life. After graduating from University of Rhode Island, Christen worked as a high-performance tennis coach, training several top junior players at the USTA National campus in Orlando, Florida. Tennis had always been Christen's passion, but she decided to get her ACE certification and fell in love with fitness training. A career change resulted, and she returned home to Massachusetts to continue her pursuit of inspiring young athletes and be closer to her family, the Cadigan clan. Christen spent six years working at a club on the South Shore where she developed an intensive tennis fitness program to help top junior players improve their stamina, strength, and overall performance level. Christen strives to help local athletes (and non-athletes) become the best version of themselves while educating about the importance of maintaining a healthy lifestyle.
Philosophy
Exercise and training are not just about physically pushing the physical body, it teaches self-discipline, inspires positive, healthy habits, and promotes confidence. Children and young adults need some type of fitness to help them develop sustainable healthy lifestyle habits.
About Me
Christen joins her mom, Debbie, and sister, Andrea, as a Vanderbilt Club instructor. She is currently the Head Coach at Orangetheory Fitness in Westwood and looks forward to training and coaching teens and young adults at the Club. Aside from training, Christen is a big marathon runner. She has run a total of 11 marathons! On her bucket list (no small feat) is to become an Abbott World Marathon Majors six-star finisher. To date, Christen has conquered four major races with London and Tokyo on the horizon. If you like to run, Christen invites you to check out her run club at Norwood's Castle Island Brewery (group meets every Sunday at 12pm, open to all athletic abilities!). Christen has two dogs, Ella and Louie. She is also the very proud aunt to her newborn nephew, CJ.
Availability
Monday, Tuesday, Wednesday, Thursday 3-8 pm
Fitnes Credentials
Certified Personal Trainer- American Council on Exercise
OTFit Certification- Orangetheory Fitness Training
CPR/AED/First Aid- American Heart Association
USPTA- United States Professional Tennis Association