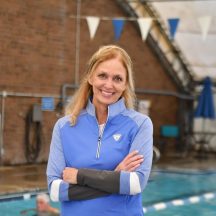 Ginni Burton
Ginni has been teaching something water-related for over 30 years. As a competitive
swimmer, she was a high school and NCAA Division I All American, and participant in
the US Olympic Swimming Trials. Whether it's deep water, shallow water, cross
training, or recovery from an injury, Ginni loves the role water can play in training,
recovery, and overall well-being. She is available to train weekdays, mornings, and
afternoons.
About Me
In addition to water fitness, I worked for over 12 years as a therapist and Program
Director in an out-patient mental health setting where I specialized in adolescent and
substance abuse treatment. My husband, Steve, and I have 4 kids, all of whom have
been involved in high level sports (no swimmers, though). Members enjoy the fact that
Steve is a sports anchor on WBZ-TV 4 and often provide feedback regarding which ties
look best on him. When I'm not working at the Vanderbilt, I'm working at the Ron Burton
Training Village, a year-round training program that enriches the lives of challenged
youth (spiritually, mentally, emotionally & physically).
Specialties
Deep and shallow water aerobics training
Swimming prep for triathlons
Adult stroke lessons for improved lap swimming
Injured athletes