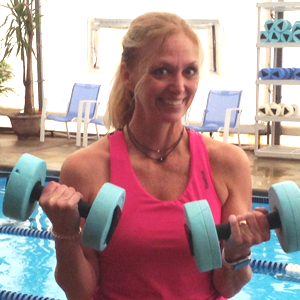 I have been teaching something water-related for over 30 years. As a competitive swimmer, I was a high school and NCAA Division I All American, and a participant in the U.S. Olympic Swimming Trials. Whether it's deep water, shallow water, cross-training, competition training or injury rehabilitation, I love the role that water can play in overall fitness.
Specialties
• Deep and shallow water aerobic training
• Swimming prep for triathlons
• Adult stroke lessons for improved lap swimming
• Aqua rehabilitation for injured athletes
About Me
My husband Steve and I have four kids, and they are all Division I student athletes (Villanova, Lehigh, UCLA and TBD). Members enjoy the fact that Steve is a sports anchor on WBZ-TV 4, and they often give me feedback about the ties he wears on the air. In the summer we run a camp for inner-city youth.
Availability
Weekday mornings and afternoons and Saturdays on request.