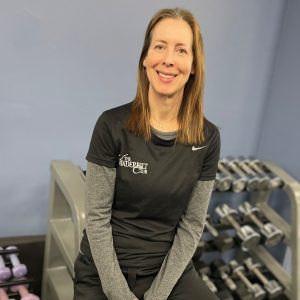 Julie has always enjoyed being active and participating in sports. She's played soccer throughout her life and continues to play. To continue to compete through the years, Julie prioritized her fitness and developed an interest in exercise which led to her personal trainer certification. She enjoys pushing herself to be as fit as possible "for her age" and challenging age-related stereotypes.
Philosophy
My philosophy is simple. Just move! Goal setting is a motivating step in the right direction, but I believe the process itself and discovering what your body is capable of – at any age – is the real reward. Make fitness a part of your life every day. You'll feel better mentally and physically, and results will follow.
About Me
I've helped former athletes reclaim their fitness and those new to exercise gain confidence and strength. I enjoy teaching my clients as well as learning from them in the process.
In addition to personal training, I coach both club and high school soccer and enjoy sharing my passion and knowledge of the game with my players and my colleagues.
Certifications:
National Academy of Sports Medicine (NASM)
Certified Personal Trainer
Senior Fitness Specialist
Women's Fitness Specialist
Youth Exercise Specialist
CPR/AED Certified
What my clients say…
"…thank you for getting me to the start line feeling confident and strong and uninjured." Angie, Westwood, MA
"…You helped me believe that I am strong and capable…I would not be taking the risks that I am without the training that you did with me. Since I started training with you, I have lost almost 20 lbs. and gained about 10 lbs. of lean muscle." N.F., Newton, MA
"You are attentive and responsive to my needs and goals, which I very much appreciate. You really are the best personal trainer in the way you guide me through the process. You have my sincere thanks." D.P., Needham, MA
Availability
Thursdays 9-12 with flexibility throughout the week