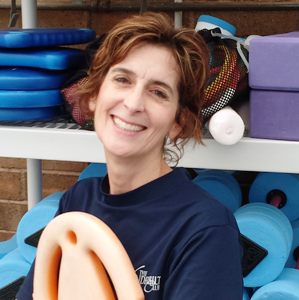 Swim Program Manager, Swim Instructor
Swim@vanderbiltclub.com
Safety is paramount when it comes to children and water. As a swim instructor and mother, I am passionate about teaching children skills necessary for water safety/survival in addition to swim proficiency. To that end I have incorporated self-rescue skills in all levels of our swim program. I am also committed to making good class fits so each child feels in control of their learning and can master the survival/swim skills set before them. I invite you and your children to join our swim family and gain the swim skills necessary for water safety, proficiency, and enjoyment. I look forward to welcoming you to the pool!
Experience with
children on the autism spectrum
children with neurological challenges
Certification
Water Safety Instructor (American Red Cross)
Private Lessons for Children & Adults
I teach water survival and swim skills for all levels. Whether you are a beginner, on a swim team or want to improve stroke form and technique for general fitness, I can help.
About Me
The pool is my "happy place" and I adore teaching children and adults life skills in the place I love. I have been at the Vanderbilt Club for over 15 years. I live in Westwood with my husband, daughter and two cats. Though I spend a lot of time in the water, you can always reach me by email. I love to hear from my swim families.
What parents say about Robin and The Vanderbilt Club's Swim Lessons
"Robin is amazing. We couldn't have found a better person to teach our daughter Ekaa swimming. Robin is very friendly, gentle yet assertive. She has this leadership skill that comes to her so naturally; kids just follow her instinctively." Shashank & Ashwini B.
"Although there are pools closer to home, we drive the extra miles to take swimming lessons with Robin. Robin knows how to inspire, challenge and motivate. When one of our children struggled, she found creative solutions to help. " Jessica K.
"I picked Vanderbilt Club because of the 1 to 4 ratio of teacher to student, the calmness of the class and the professionalism of the staff. My daughter has gone from reserved and hesitant in the water to confident and having fun. Huge credit goes to Robin. She is patient and kindly persistent." Lexa S.